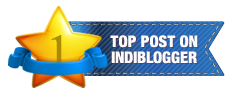 I've done a few posts in the past about upcoming lok sabha elections but in this one, I tend to explain about the upcoming posts that I would be doing.
With election fever on and both parties' elections campaigns at their peak, it's a fitting time for a blogger like me to make out the most of this opportunity and provide my readers with a hint of where the country is heading. Will it be the BJP that will come in power after 11 years? OR will it be another successful election campaign for the oldest political party of India i.e. Congress? OR will the 'others' coming up with a surprise and sweeping the elections in their favor?
One can also not ignore the impact Aam Aadmi Party will have on the elections. With Delhi under President's rule and Kejriwal's intentions about Aam Aadmi Party going national absolutely clear, the AAP is not more restricted just to Delhi. Therefore, a voter has got many options to choose from.
Politics is the most common household discussion and why not! A right leader is just what a country needs to develop and whether we realize or not, give it the attention it deserves or not, we cannot ignore the fact that voting for the right party in the upcoming elections will be absolutely vital for our country's future, development, prosperity - use as many 'intellectual' words as you like, it's all relevant.
We say that India is a country of the 'young'. We've got majority of the population below the age of 35 and hence I say that lets use the 'power of the youth'. While being on social media, let's discuss on the important topic i.e. the upcoming elections. Not only is this a topic 'worth' discussing but its a topic on which almost every other readers can provide a good take/a different view. And so, I look forward to hearing your views. Which lucky party are you giving your 'prestigious' vote to?
In the next few days, this blog will provide you with unique posts. I've added a poll to know which party is forming a majority as per my blog readers. Further, I'd also be having 'guest' posts from other writers which will give you a better idea of what people are thinking. I hope you would like the 'blogging' coverage of the upcoming Lok Sabha elections. :)